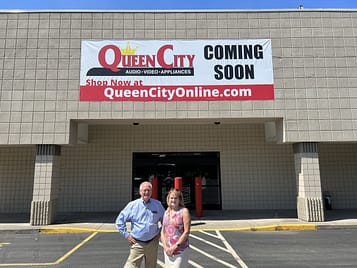 Queen City Appliance
"A new queen is in town." Queen City Appliance out of Charlotte is opening their first store in WS at University Plaza. The owner, Roddy Player, has 5 stores in Charlotte. Roddy went to Wake Forest and has great ties to the city. We were excited to work with Roddy to find the perfect location for Queen City Appliance in the former Office Depot space at University Plaza. Delivering NOW to Winston-Salem, Greensboro, High Point, and the Surrounding Area.
Rolly's Baby Boutique
You can't miss Rolly's new sign at 275 Stratford. We are excited to represent the owner Melanie Barbee in her new location. It was a pleasure to work with Melanie and Hubbard Realty to customize this beautiful new location. The doors are already open so make sure to check it out! The two-story shop is full of clothes, furniture, gifts, and Rolly's in-house design studio!
Six Hundred° : Live Fire Kitchen
We were very excited to see this awesome restaurant finally open at Bailey South in Innovation Quarter. We represented Chef Travis Myers and Ryan Oberle a few years back in negotiating their lease, but the opening was delayed by Covid. Six Hundred° has received great reviews and definitely has the right vibe with a fabulous outdoor patio perfect for fall dining. If you have not been yet, you must go!
Walnut + BroadLocated at the intersection of the historic Old Salem, West Salem and Washington Park neighborhoods, these two re-developed warehouses, totaling nearly 13,000 square feet, will be home to several exciting, community-oriented businesses that will bring new life while preserving the unique, historic character of these buildings. The ambitious project is being developed by Broad & Walnut, LLC partners Claire Calvin (Dinners on the Porch, LLC) and Joe Williams (LMI Builders) and brings together a collective of complementary businesses in a welcome re-imagining of a community space in South WSNC. More to come on those tenants soon!